K-1 M Partially low-floor Tram
The car body is made oflhe all-metal welded unitary construction, bent profiles with outside steel casing and composite materials.
The framework and the body lining are protected on the inside against corrosion and coated with noiserproofing compound. The body has modem shape and wide windows, providing light exposure of interior and review.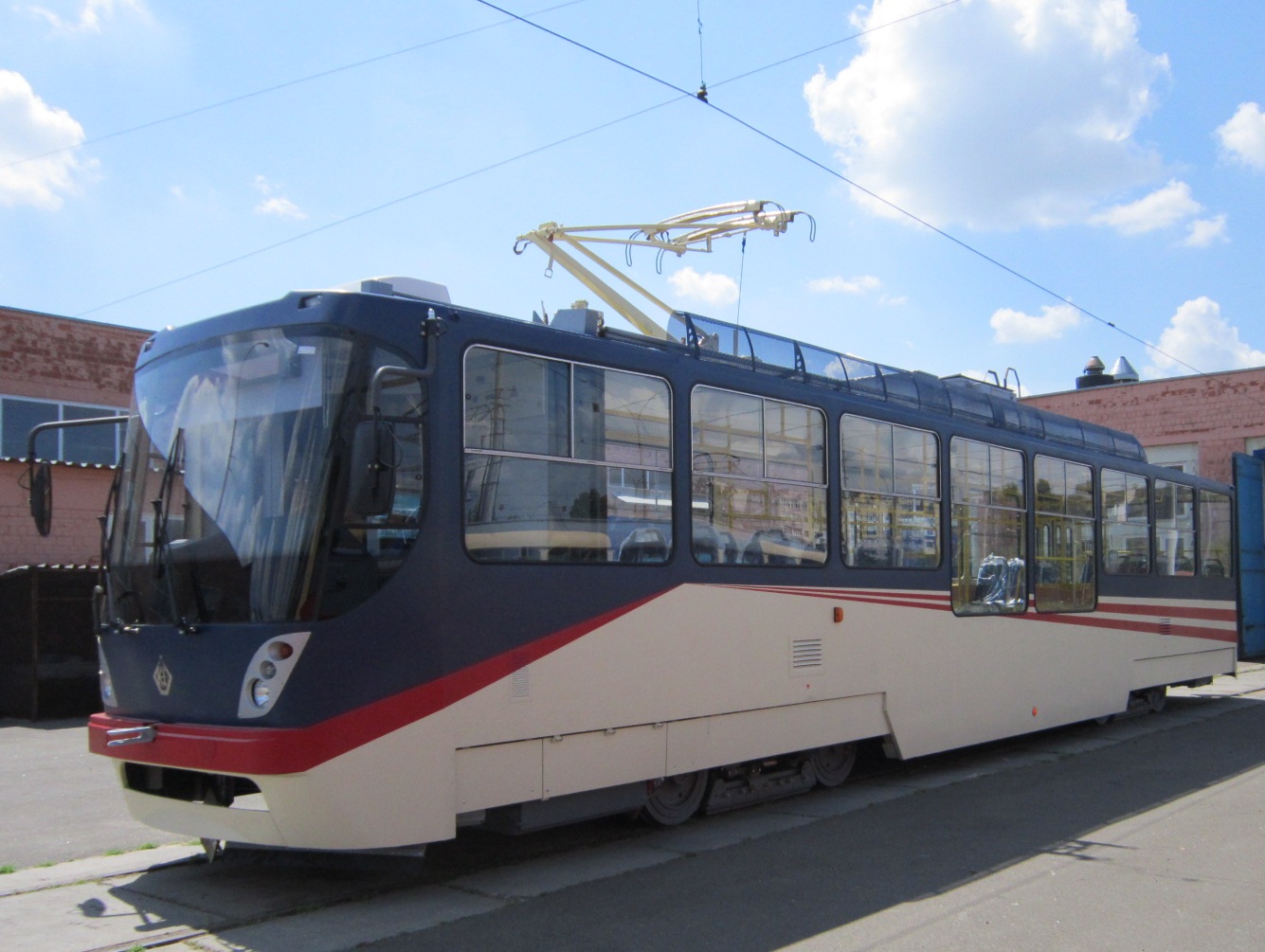 Wide doorways and low-floor roomy platform in the middle part ofthe car increase the speed of boarding, disembarkation and create a comfortable environment for passengers with children and passengers with limited movement possibilities. Heating of the passenger saloon is made with reactive heating elements, located within the sidewalls of the tramcar.
The driver's cabin is heated and ventilated by separate heating system.The car is equipped with air-conditioned passenger saloon and driver's cab at the customer's request.
The tramcar is equipped with comfortable seats. Lighting of the passenger saloon is provided with LED lamps. The tramcar is equipped with a traction motor of lGBT type.
Motion carts have simple and expedient structure.
The car is equipped with the following types of brakes:
electrodynamic brakes,
mechanical disk brakes,
electromagnet rail brakes.
The electrodynamic brake is the main operational type of brakes, which provides recuperation ofthe electric power.
Basic technical data
| | |
| --- | --- |
| Length over couplers | 16 738 mm |
| Length | 15 638 mm |
| Width | 2 480 mm |
| Height above TOR | 3 145 mm |
| Car body base | 7 500 mm |
| Bugle axle base | 1 900 mm |
| Wheels' diameter | 700 mm |
| Track gauge | 1 524 mm |
| Empty carweight | 19,6 t |
| Maximum speed | 75 km/h |
| Catenary voltage | 550 V |
| Power of engine | 46 kW |
| Total No. of passengers | 161 pass. |
| Low floor area ratio | 36% |